'Google is interested': Pharmacy careers advice from experts
Published on:
12 Aug 2022
As NHS England's deputy chief pharmaceutical officer, Bruce Warner has a leading role in shaping the commissioner's strategy regarding community pharmacy. However, he disclosed that even he still experiences "imposter syndrome".
Mr Warner started out in the community sector, running and then owning a pharmacy in the 1990s. It was "successful", but it was "never going to be huge", he told the audience at C+D's careers sessions at the Pharmacy Show (October 6-7).
He then moved into a portfolio career, with roles ranging from a prescribing advisor in hospitals in Sheffield, to setting up a master's degree for GP pharmacists at the University of Derby.
After various roles at the now-defunct National Patient Safety Agency, Mr Warner first entered NHS England as deputy director of patient safety in 2012, before working his way up to his current role in 2014.
Having a variety of jobs is going to become "much more common" for pharmacists, he predicted.
"We need a flexible workforce [that] actually understands what is expected of it," he said. "I'm really positive about the future of community pharmacy."
Industrial
Professor Luigi Martini (pictured below), chief scientific officer at the Royal Pharmaceutical Society (RPS), used his C+D session to introduce students to the option of a career in industrial pharmacy.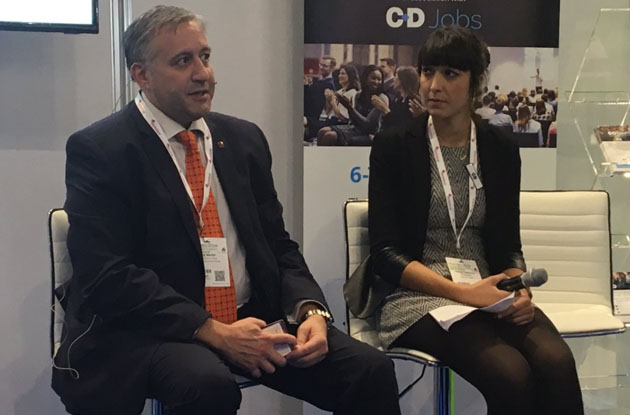 A community pharmacy degree is a "passport" for work in other areas, he said, waving his British passport to make his point. Pharmacists pique the interest of employers such as Google and Amazon with their "unique" combination of clinical skills and knowledge in biology and chemistry, Professor Martini said.
For more information on the industrial roles available to pharmacists, you can email Professor Martini on science@rpharms.com.
Digital
Also on stage was Alistair Murray, founder of prescription management app Echo, where he is chief pharmacist.
Mr Murray (pictured below) also espoused a portfolio career as a way for pharmacists to get ahead by paying the bills while finding new ways of working.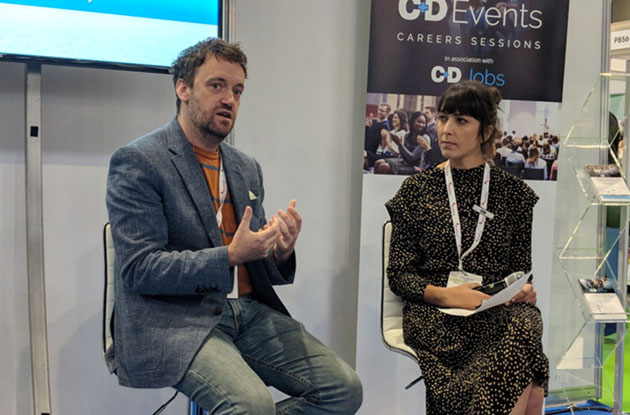 Although he has embraced the digital with Echo – which Lloydspharmacy's parent company McKesson UK bought in June – Mr Murray stressed that this side of the business needs to be balanced with face-to-face contact. "We're not going to be doing flu jabs with drones...yet," he told attendees.
Military
Major Bex Heaton (pictured below) works as a pharmacist in one of the four corps within the Army Medical Service – the other three being dental, veterinary and nursing.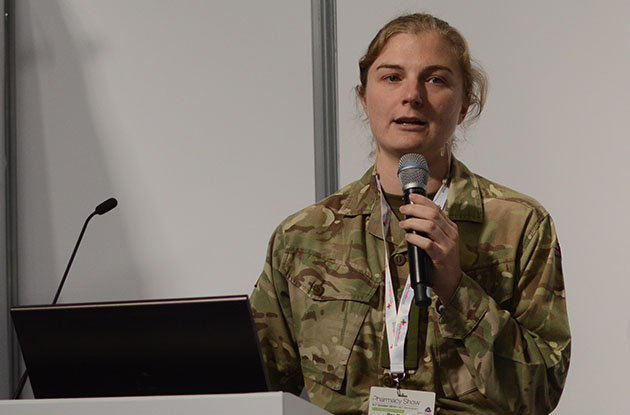 She has used her professional skills on board a naval ship, in community health engagement programmes in Kenya, and on deployment in Afghanistan and South Sudan. She supports both small medical teams, hospital set-ups and individual clinicians.
However, you don't have to work abroad as a military pharmacist – in October Major Heaton was supporting the army in London, she said.
Although the job includes the perks of adventure and comparatively "good pay", you must also be prepared to do things outside your comfort zone, Ms Heaton said.
Watch Major Heaton describe the life of variety in military pharmacy:
Search hundreds of pharmacy roles on C+D Jobs