The pharmacy technician who oversees seven pharmacies
Published on:
12 Aug 2022
Three years of pharmacy cuts in England have challenged many businesses' ability to offer new services. But one manager has battled with reduced government funding to improve every aspect of the business, from increasing electronic prescription service nominations to delivering more services, bagging the C+D Pharmacy Staff Member of the Year Award 2019 in the process.
Amy Harper works at one of the 72 Knights Pharmacy branches, Crossfell Pharmacy in Middlesbrough. She joined the company in 2015 as a trainee dispenser working on Saturdays. Only a few months after becoming a full-time pharmacy technician in 2017, she was promoted to pharmacy manager at the age of just 24.
Two years later, Ms Harper was appointed Teesside area manager – a job that involves overseeing seven pharmacies. When C+D meets her one afternoon in December she is bright and bubbly despite the cold. What are the secrets behind her success?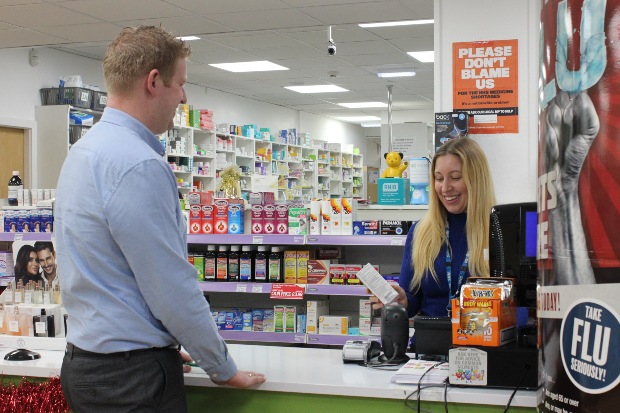 Building A Team
When she first became manager of Crossfell Pharmacy, Ms Harper was faced with the challenge of building a strong team, as several staff members had resigned. "Some had been there a long time," Ms Harper says. "We had to get a good team back in place." She did this by ensuring her new recruits knew every corner of the business.
"I trained them how I had been trained. When I do something, I want to know the ins and outs. I can't sit and read about it, I need to do it. I gave them jobs that they had never done before, and now everyone knows how to do everything."
Service-Driven
Ms Harper helped the team shift their mindsets to become more focused on service delivery. This included training several members of staff to be smoking cessation advisers, after she realised the role her pharmacy could play in tackling the high number of local smokers.
"We've made some posters about smoking cessation. If somebody comes in asking for nicotine gum, for instance, we would always suggest the stop smoking service here".
But this is far from the only service offered by the busy pharmacy. "We do the Middlesbrough CCard scheme [giving out free contraception], chlamydia testing and the Healthy Start vitamin scheme. We provide a needle exchange scheme too," Ms Harper says. On top of these, the pharmacy also offers NHS services such as the Community Pharmacy Consultation Service (CPCS).
Ms Harper is also branching out into private services in the pharmacy, having trained in ear piercing. "I practiced on a little girl, she was only five years old. I was so scared, but it went fine."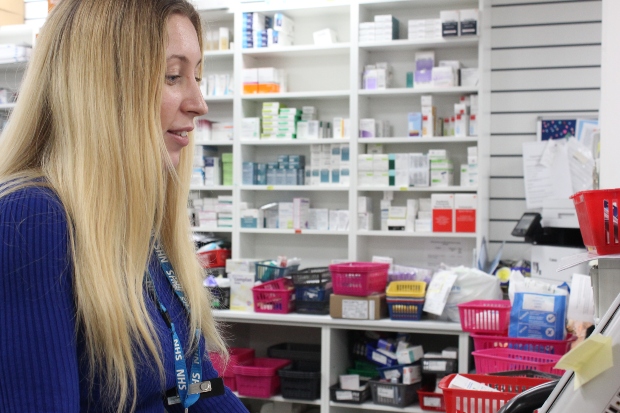 GP Collaboration
Ms Harper often considers improving her pharmacy's service for both patients and healthcare professionals.
For instance, she spoke with the prescription clerk working at the GP surgery next door to her pharmacy and asked her to inform the surgery's patients that they can sign up to the electronic repeat prescription service at their local pharmacies. This opened up discussions with patients visiting Crossfell Pharmacy about signing up and the business is now receiving around 100 nominations a week.*
Ms Harper's pharmacy also offers a text messaging system that notifies patients as soon as their prescriptions are ready for collection. The same service can be used to send patients text reminders, for example with the time of their next smoking cessation appointment.
School Vaccinations
One day in 2017, when a primary school teacher visited Crossfell Pharmacy to cram in a flu jab during her lunch break, Ms Harper had an idea.
"I told the pharmacists we could go to the school and do [the vaccinations]," she said. For the last two flu seasons, the pharmacy has vaccinated the teachers of several primary schools.
To save the teachers as much time as possible, Ms Harper asked them to fill in their consent form before the vaccination day. This season, Ms Harper and a pharmacist arrived at the schools at 7.45am, vaccinating around 30 teachers in each session.
They gave the vaccine to 80 teachers in one school, 35 in another and 20 in a third. "As we're doing them privately, the school pays for the teachers to get it done."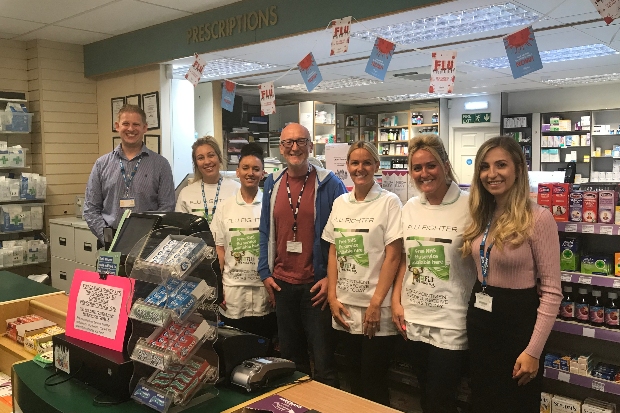 Left to right: superintendent pharmacist Pete Horrocks; Ms Harper; accuracy checking technician Louise Chamberlain; BBC Tees Radio presenter Gary Philipson (who was receiving a flu jab); pharmacy technician Kerry Cronin; medicines counter assistant Kelly Swallwell; and pharmacist Laura Cowan
Learning From Differences
Ms Harper was promoted to area manager shortly after she collected her C+D Award at the ceremony in London in June 2019. She now supervises seven pharmacies as Teesside area manager, offering help and advice.
Being both pharmacy and area manager can prove challenging. "It is hard because all the shops are run differently." For example, a Stockton-on-Tees branch makes up Medipack trays and has a separate entrance for the methadone patients, unlike Crossfell Pharmacy. "Everywhere is different," Ms Harper says.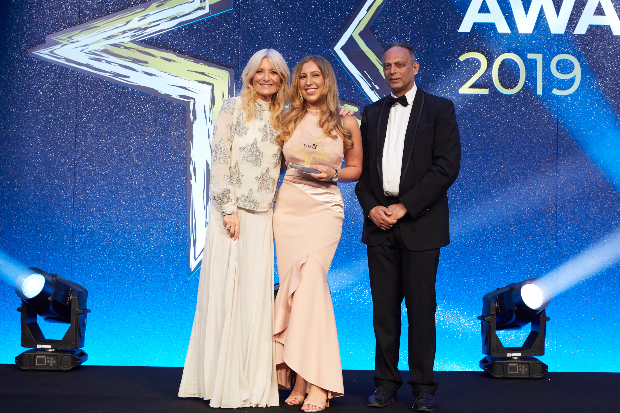 "I've worked in each branch, I know how they do things and how they are all run. Sometimes it's a bit hard for me, but all the managers in each branch are really good," she adds.
As Ms Harper learns from the differences between the pharmacies in Teesside, she is able to further their shared goal of improving patient care.
Could you win C+D's Pharmacy Staff Member of Year Award in 2020? Click on the link below to enter and for more details:

*Article amended on February 6, 2020 to clarify that the GP surgery does not set up electronic prescription service nominations on behalf of the pharmacy or promote nominating one pharmacy.
Related links